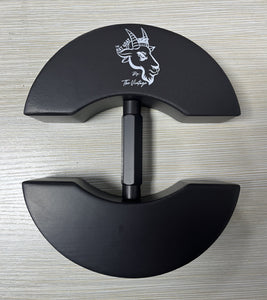 Black Hat Stretcher By The Vintage
Regular price $29.99 $20.00 Sale
Wood

Imported

Fitted closure

STRETCH AND MAINTAIN YOUR HAT SIZE - Designed for long-lasting durability purposes. This classic hat stretcher offers you an attractive storage solution that is ideal for hat stretching and maintenance.

UNIQUE HAND MADE - Each hat stretcher is handcrafted from genuine solid wood. High quality materials, elegant lines, and smooth surfaces give you great enjoyment.

For Size 7 - 8 1/2

ABSORBS PERSPIRATION - Maintain size by preventing shrinkage and draw out moisture to preserve leather band, which can prolong the life of your favorite hats.

IDEAL FOR DIFFERENT HATS AND CAPS - Works great for Baseball Caps, Cowboy Hats, Fedora Hats, Berets, Sun Straw Hats, Athletic Hats, Driver Hats, Wool Felt Hats, Panama Hats, Casual Cotton Hats.